Acrylic charms, I've started getting crazy with them once I made my own laminated keychains, which they sucked but first try are worth the lesson. I'm planning on making some acrylic charms with Ink It Labs in the near future.
The Search
After a long and intensive search, I stumbled upon several sites that sold custom acrylic charms. I was interested in these sites: Ink It Labs, Acorn Press, and Chilly Pig Creations. This time I decided to buy some samples from Ink It Labs because they had more items provided.
The Sample Kit
I made a purchase of $35 (shipping included) of 2 samples: The Charms and the Gumdrops Colored Acrylics. I really like how these items were specified, like some charms had the name of their material or\and texture labeled in the back, to make it more easy to see the differences. They even sell additional coatings for the charms as well as some printed palettes for spot colors.
They may even offer more stuff not listed on the site, so I suggest you drop a message to them or visit their shop for more information.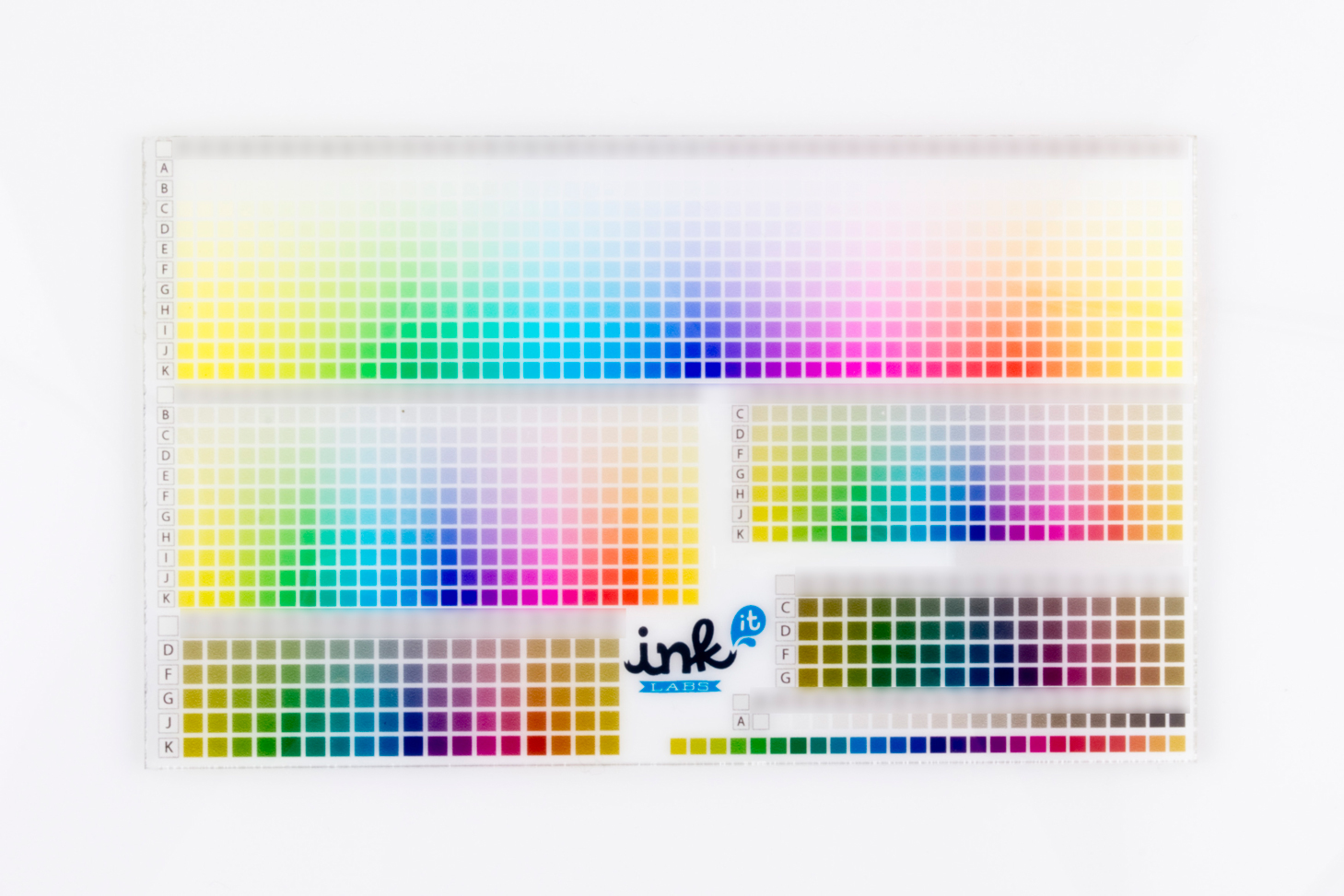 Spot Color Palettes
Even though I didn't buy the palette, I think is a good idea to explain it briefly. These palettes come in clear and maple wood, they are a good reference for a dense, rich, and accurate spot color (only for use with the swatches in Adobe Illustrator).
Gradients – The use of gradients with spot colors can be quite tricky since these palettes are used as primary basic colors. If you choose to make the design with gradients, you can avoid making errors by rasterizing your artwork, but doing so you can also make the spot colors invalid. Still, if you like to give it a try you can get a better orientation with the company.
CMYK Conversion – The golden rule, always make sure to make proof on your home with a CMYK version of your artwork and\or having a prototype made is always the best option.
Overall
It's always a good idea to see the reviews from others about the quality of the product and services, but affording a sample kit before even making your custom products is a vital step. This way you can study their materials and quality, the interaction the company has with you and also be able to decide if you can afford their products.
NOTE: Today I was having difficulty to tell the dissimilarities between the Shimmer Gloss and No Gloss on the acrylic charms; even though the names suggested there was a contrast between them. I sent a message to Ink It Labs and they reply back with various explanations and a bit of history behind their company. If you like to know the differences then I'll explain it briefly. Both may look the same but the shimmer Gloss is a "matte" gloss finish (varnish) that has an additional layer of protection while the No Gloss has none.