Acrylic keychains are one of the most popular items sold in the Artist Alley. They can range between acrylic, rubber or wood material, to special add-ons or coatings like double epoxy, glitter or holographic foil. Vograce is one of the most popular (and possibly the cheapest) companies for acrylic keychains and other items. So here is my honest review about this company.
This was my first order, well group order to be precise, and I was so excited that I ended up paying more than 1k for my massive purchase. Honestly, having a new customer like me and paying such amount for Vograce, with the expectation of receiving high-quality products and a cordial treatment, should suffice my day. Not to mention the recurring idea of becoming a potential and loyal customer for the company. Sadly I became an unhappy customer, to say the least.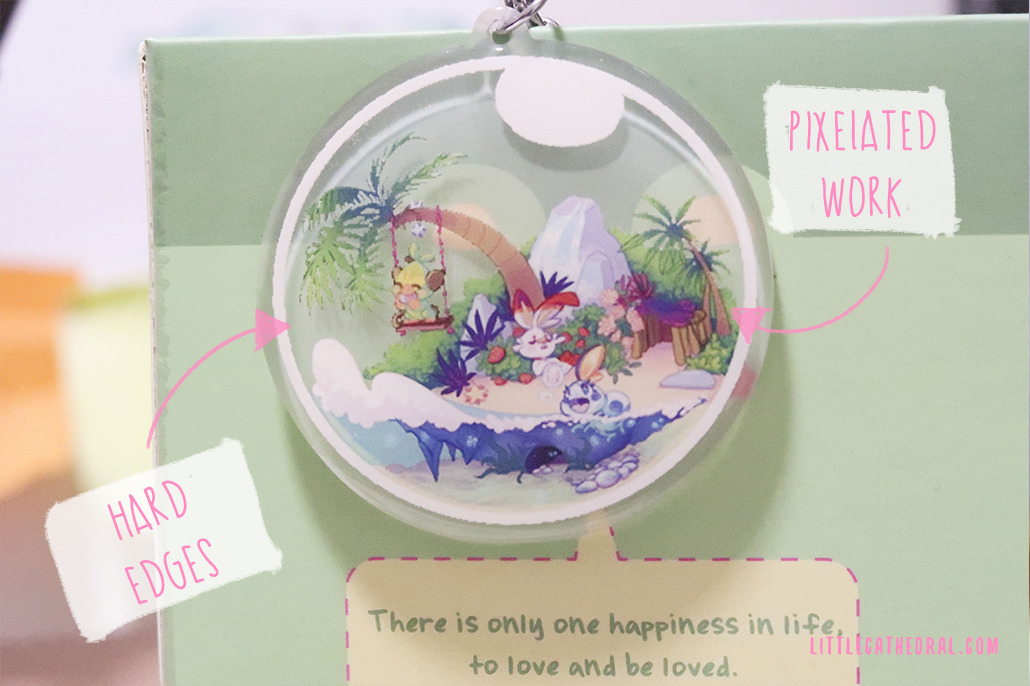 The Nightmare With Vograce
After receiving my huge order 2.5″ keychains, I couldn't stop noticing that half of my products came with pixelated images. Usually, I make sure to soft proof before delivering them, by exporting the files in the correct formats. I believe most of my images got resized several times and messed up my quality, contrary to the files on my google drive, they seemed fine at first glance and even when printed on black background.
Issues and Mistakes
I might not have enough idea how the image quality of the keychains work, but I suppose for a big company that offers products and services should comply to bring the best quality for their clients and take their concerns seriously. Having an overproduction and massive orders doesn't justify for a job half-ass done or poor customer service.
Mistakes are bound to happen and I can be a flexible customer if you find a way to resolve the matter. As a freelancer, I tend to do mistakes but at the end of the day, I have to own my shit and comply with the objectives and find solutions to the problems that my clients are facing.
Cost & Shipping
Pricing for the keychains was affordable but the shipping was a bit too much.
Quality
Some came out great but others had a bad quality from grainy or pixelated images, low ink traces, and wrong add-ons. I believe it was resized from the original file multiple times, damaging the png format of the image (pixelated), even the 2500px ones.
Quantity
I believe you can request an order of less than 50, but I barely remember.
Communication
There is nothing ruder than been a dismissive representative and not taking your client's concerns seriously while blaming the files from the driver. None of my questions were answered with elaborated details or valid justifications. Coco lacked communication performance, problem-solving skills, empathy and made no effort for resolution.
Overall 2 ☆ 5
Buy at your own risk. This was my first and last purchase with Vograce, I've been investigating other user-friendly manufactures with enriching experiences. Luckily I was able to recover the money by offering bundles and freebies, though I knew I could've done much more without the issue and the vague interaction with Coco. From this experience I learned 2 big lessons:
Make your research so you can choose your manufacture and be aware of the rules, formats and Terms and Conditions.
Avoid group orders so you don't get caught up in a misfortunate event or be held responsible from a mishandle in another's person purchase.
There might be reasons why artists shut their mouths and don't share either their bad experiences or manufactures. In those times their reasons are valid. This space is to inform and educate, and I have taken the precautions before taking my time to write this piece neutrally.